Dog Potty Training
One of the most important parts of dog potty training is to teach your dog the right way to help relieve himself. Potty training is essential in every dog's phases of growing up especially if you are allowing him to roam around your home. Applying the basic details and methods in potty training is a bit easier than on adult dog potty training because as an adult dog may already have his own way on relieving himself and you may find it hard to teach him new things or replace the old habits. There are several ways to train your dog, and it all depends on your lifestyle, living space and your available time with your bulld training. If you live in a house with a spacious yard then doing this training will be easier for you and for your dog.
You can arrange a place outside your house or usual place where your dog can do his 'eliminating task' properly. This can be a small section on your yard where you can teach your dog to always remove his wastes. If you live in a tall building or an apartment with no backyard, then you can prepare a small container or even a box with bedding for dogs. Another alternative way to help your dog is to use scraps of old newspapers as bedding for your dogs' waste. But sometimes, the use of a newspaper is not that helpful at all because your english bulldog can be distracted by the paper and will surely began to play with it by chewing the paper.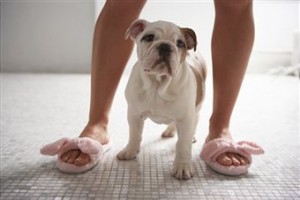 You must know the signs when your dog is ready for a potty break. You must also try to monitor their food intake and during regular intervals in order to have an idea, or to know the timing when you want to bring your dog on his potty area. Generally, when a dog has his potty break is about 6 times a day, but an adult dog is much less than once a day. Younger pups can reach 8-10 times a day. This also depends on the dog's diet and what kind of food you are serving to him every day. These are details you need to consider regarding dog potty training.
More Articles About English Bulldogs: