What You Need To Know About English Bulldog Training
There is nothing more adorable than an English bulldog right? No, you're wrong! There is something more adorable and irresistible than an English bulldog and that is a trained English bulldog. Wouldn't it be nice to have your English bulldog trained? Would' it be great when you can communicate with him in a certain way, and guide him and have fun with him all at the same time? A trained bulldog is a dream come true. It's like having the best of everything from an English bulldog. You see, an English bulldog is the perfect pet. They use little space, they just have enough energy, they have the right personality, and they get along with children. However, in spite of their overall package, English bulldogs can be a bit stubborn. This is one of their most challenging traits. That is why, when you want to make the best out of your
English bulldog training
.
This is the steps in training your English bulldog.
The first step is to get all the information you need to know about the breed. Study them, and research about them. This is the only way you can learn to understand them, and give you a heads up in handling them. For instance, English bulldogs are naturally stubborn. You can call their name several times, and they will not respond to you at all. No, they are not dumb; on the contrary, English bulldogs are intelligent dogs. When they become unresponsive of you, it is because they don't want to. This stubbornness can make walking on the leash a nightmare. The only way you can come to terms with this, is to have him trained, and doing some research about their breed is the first step that you should do,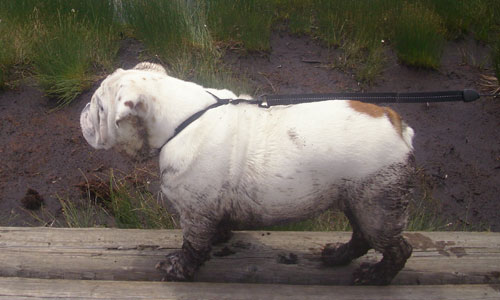 The second step in English bulldog training is to use some motivators. If you do your research right, you should know that food are great motivators for English bulldogs. You can use the reward method by using food in exchange for their obedience. What you need to do is to cut the food you use for training into the size of a large pea. You don't want to give the dog a large serving, because the point of using motivators is to give the dog a taste of something when the dog does something obedient.
The third option in English bulldog training is use a clicker. The clicker would enforce following the command and understanding the direction when you want to train your English bulldog with some new tricks. In using the clicker, what you need to do is to give a command, then click the clicker one time when the dog obeyed, the immediately give the pea-sized treat. The English bulldog would associate the clicking with the command you want to do. When your dog eventually becomes consistent in obeying you with the use of the clicker, gradually stop the treat, but continue using the clicker.
The fourth option is to use command words with hand signals. Many dog trainers use this, the trick here is you should be very consistent with your command and hand signals. There is no standard hand signal or phrase, you can choose a specific command phrase and apply a certain hand signal with it. Another trick here is to use not overwhelm your English bulldog with so many commands. Using several commands at one time could confuse your dog. Once you take it slow, and is consistent with your command phrase and hand hand signal, your dog can learn new tricks from you in no time.
The fifth step is to apply the cliché, practice makes perfect. English bulldog training requires consistency, you need to keep their enthusiasm up or else their stubbornness would get the best of them, and you are back to square one. English bulldog training requires time and attention. The more you and your English bulldog practice training the sooner and more efficient the dog is going to learn.
Keep in mind that between the age eight to twelve months, your English bulldog will go through an adolescence stage. This means that can temporarily forget some of the training, but don't fret, be consistent and they should go back in following the training.
A very important point you should remember is to never, ever hit your English bulldog during training, not only is it not effective, but it can also confusing and harming your dog.
MORE ENGLISH BULLDOG TRAINING TIPS
Puppy Potty Training – Here is some of the puppy potty training tips which I used on my puppy, but you can teach old dogs go to the bathroom as well with these instructions. Read more…
Dog Training Schools – Good dog training schools must offer and give you the right tools and knowledge on how to approach and train a dog that is afraid or timid. Read more…
English Bulldog Potty Training – It does not differ in the usual potty training of other dog breeds. It takes patience and sheer determination in your part to point your dog to the right direction in their potty routine. You also need to have knowledge of the proven and tested methods of dog potty training. Read more…
Dog Training Courses – If you have had much experience with different breeds of dogs and you love them all then you can naturally start try your hand doing some dog training courses. Read more…
Dog Training Tricks – It is important that you teach and train your dog some tricks. However there are some owners just get frustrated when teaching their dog some dog training tricks. Read more…
Dog Potty Training – One of the most important parts of dog potty training is to teach your dog the right way to help relieve himself. Read more…
Dog Training Advice – This dog training advice will surely help a lot of english bulldog owners and breeders to improve their skills in caring for their pet. Read more…
Puppy Training Tips – The basic tips puppy training is included in this article. Of course, there are many methods, tips and techniques, and these are only a few common tips which you can follow. Read more…
Dog Training Equipment – If you are going to train your English bulldog then you'd better prepare the right dog training equipment to make them more comfortable. Read more…
Dog Obedience School – The first advantage by registering your puppy to dog obedience school is that your pet will learn how to respond to specific, well-supplied commands. It also means that you, the owner must learn the proper way to give those orders. Read more…