English Bulldog Information
Reading this page means two things, either you are planning to buy an English bulldog or you have one already in your house. If you want to take care of him or her then you need all the best English bulldog information that you can get.
It is true that information is power; in this case, information can spell harmonious living between you and your English bulldog. I, myself is a huge fan of an English bulldog, I can't get enough of them. They have that look that you cannot stop hugging.
The Standard English bulldog is usually medium sized, wide, solid canine with short legs. The whole body and head are immense with extra skin on the head, thus making the forehead falling in folds. The cheeks of the English bulldog extend to the sides of the eyes. Its mouth is wide and short with a broad jaw. The colour of the nose is black like any other dogs, but the English bulldog's nose have nostrils that are quite large. The eyes are the things that I really like about the breed. It spite of its burly exterior, you know that English bulldog's are a teddy bear inside because of the "kindness look" in its eyes. The eyes of the English bulldogs are usually dark and deep set, while the ears are adorably small, a bit thin, and located high on the head. One of the apparent appearances of the English bulldog is its enormous, very broad, very square jaws with hanging upper lips that gives an impression of fierceness.
YOU MAY ALSO LIKE THESE ENGLISH BULLDOG INFORMATION:
English Bulldog Potty Training – It does not differ in the usual potty training of other dog breeds. It takes patience and sheer determination in your part to point your dog to the right direction in their potty routine. You also need to have knowledge of the proven and tested methods of dog potty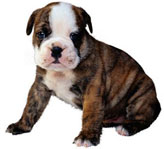 training. Read more… 
English Bulldog Kennels – Respectable bulldog kennels are not that many so if you are hoping to buy a dog that will fit in with your standards and ideals the best way to source them is to get in touch with breeders who do not only commercially breed but also put their heart and passion for the dogs first. Read more…
The teeth have an under bite and the tail can be straight or screwed, and low hanging. Now, the coat of the English bulldog is usually brindle, commonly red, but also available in other shades of brindle, washed out white or red. There are also solid red or solid white, piebald, pale yellow, fawn, and fallow or a combination of these colours. Having mentioned all these, it is obvious that English bulldog's look is intimidating, it is one of the most gentle dog breeds there is. But don't misinterpret the tenderness of this breed, because an English bulldog will head on attack any intruder without hesitation and with great ferocity. You have to keep in mind that bulldogs got its name because they are used to bait bulls during the olden times. This is enough reason not to take English bulldogs for granted. However, in spite of its interesting history of the
English bulldog
, they are very gentle with children. This makes the English bulldog the whole package, a play dog and a guard dog, not just any ordinary guard dogs, but an excellent guard dog at that.
The temperament of the English bulldog is both gentle and persistent. These dogs do not give up that easily. When you want to make your English bulldog happy, you need to shower it with attention, because this breed is a people's dog, and it loves all the attention it can get. However, like people, English bulldogs also have different personalities. Some bulldogs just want to be pampered with attention, while some wants you to have great leadership skills, because some English bulldogs are very dominating. This is the case when you need to understand alpha canine behaviour. What's great about English bulldogs is that it knows where it stands in the human pack. This makes the breed very reliable in the group of people, thus making English bulldog a breed perfect as a family pet. However, when there are other dog breeds in the neighbourhood, you have to be wary because they are very combative with other strange dogs. This means that you have to be careful in letting your English bulldog wander around the neighbourhood.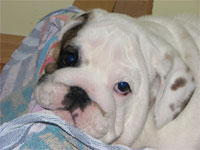 When you just bought an English bulldog puppy, expect that they are full of energy, but they get slower as they get older. Another fascinating thing is when an English bulldog sleeps, it snores loudly, so be sure that you give your adorable bulldog a sleeping area of his own.
When you feed him, expect that you will do a lot of cleaning afterwards, because they are naturally messy eaters and also have drool and slobber tendencies.
When you have an English bulldog at home, remember to give me attention and begin to display leadership behaviour when you do want your English bulldog presenting some guarding behaviours, such are guarding furniture, toys and other spots of the house.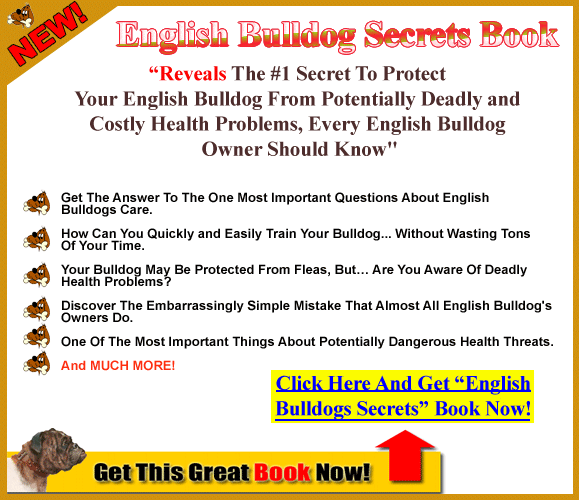 More Articles About English Bulldogs: